Cable Pits for MRWA
ACO make two specialised cable pits to meet the requirements of Specification 704 of MAIN ROADS Western Australia – Cable Conduits & Pits for Intelligent Transport Systems (ITS)
A choice is offered between either a rigid plastic twin wall pit or a cement concrete pit. In most applications, concrete backfill is not required.
Both pits are supplied complete with a galvanised steel lid and dependent on pit structure, is secured with ACO's patented PowerLok® or PITLOK® lid system.
For security for sensitive areas, both can accommodate MRWA's Type 234 padlock.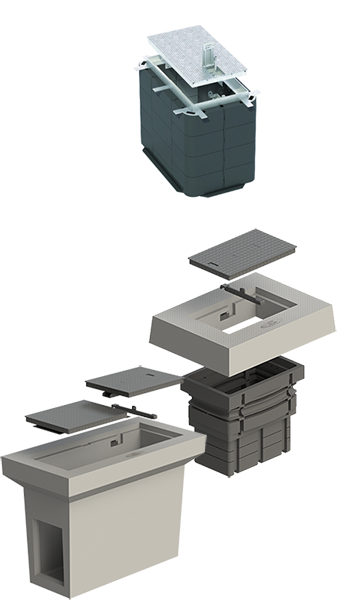 MRWA EzyBrixx® plastic pits
| Part No. | Description | Size (L x W (x D)) |
| --- | --- | --- |
| 142806 | MRWA 5 EzyBrixx® plastic pit | 600 x 300 (x 600) |
| 142398 | MRWA 5 Lid & Frame | To suit |
| 142807 | MRWA 8 EzyBrixx® plastic pit | 1200 x 500 (x 900) |
| 142399 | MRWA 8 Lid & Frame | To suit |
| Part No. | Description | External Size (L x W (x D)) mm |
| --- | --- | --- |
| 142940 | MRWA/WP 5 PITLOK® concrete full body pit / lid | 910 x 660 (x 960) |
| 142942 | MRWA/WP 5 PITLOK® concrete split body pit / lid | 910 x 660 (x 960) |
| 142938 | MRWA/WP 5 PITLOK® plastic pit / plinth / lid | 1000 x 750 (x 785) |
| Part No. | Description | External Size (L x W (x D)) mm |
| --- | --- | --- |
| 142941 | MRWA/WP 8 PITLOK® concrete full body pit / lid | 1565 x 765 (x 1070) |
| 142943 | MRWA/WP 8 PITLOK® concrete split body pit / lid | 1565 x 765 (x 1070) |
| 142939 | MRWA/ WP 8 PITLOK® plastic pit / plinth / lid | 1675 x 870 (x 1040) |
| Part No. | Description | External Size (L x W (x D)) mm |
| --- | --- | --- |
| 142927 | MRWA/WP 10 PITLOK® concrete full body pit / lid | 2220 x 760 (x 1080) |
| 142928 | MRWA/WP 10 PITLOK® concrete split body pit / lid | 2220 x 760 (x 1080) |
MRWA non-locking enclosures
| Part No. | Description | Size (L x W (x D)) |
| --- | --- | --- |
| 142934 | P4 MRWA Electrical plinth, lid & plastic pit | 570 x 275 x 950 mm |
| 142930 | P4 MRWA Electrical concrete lid | |
| 142929 | P4 Plinth MRWA | |
| Part No. | Description | Size (L x W (x D)) |
| --- | --- | --- |
| 142935 | P8 MRWA Electrical plinth, lid & plastic pit | 1250 x 440 x 1040 mm |
| 142933 | P6/8 MRWA Electrical 2-part lid and support bar | |
| 142932 | P6/8 MRWA Electrical concrete lid | |
| 142931 | P6/8 Plinth MRWA | |
For more info contact Ben Williams
Ph.: 08 6250 3700
Mob. 0411 693 003