ACO Cablemate systems
Precast cable pits
ACO offers the industry the largest range of cable enclosures, lids and access covers including the patented Pitlok®, Covercom® and  Powerlok® lids.
The pit bodies are purpose designed and manufactured from materials with excellent insulation and strength.
Standard lids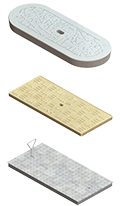 A range of quick access lids compliant with industry standard lifting keys. Available in cement concrete, polymer concrete and hot dipped galvanised steel.
Steel lids are fitted with syringe guards and options exist for bolting.
Keyhole plugs available.
Powerlok® lids – security lid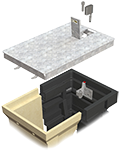 Patented lid with no obtrusive locking bar.
Lockable Spring loaded access hatch (with a catch) which (when opened) gives access to a lock box containing a padlock or security bolt.
Red indicator visible when spring hatch is unlocked.
Pitlok® lids – SCEC endorsed security lid

SCEC endorsed lid to SL 1 (Security Level 1), compatible with ACO's SCEC endorsed concrete collars and concrete pits.
This patented security lid comprises a spring-loaded hatch, locking bar and an integrally welded locking chamber.
The locking bar protrudes through the chamber to engage with an SL3 endorsed padlock. The locking bar is removable for ease of access
Covercom® lids – SCEC endorsed security lid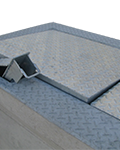 The most secure lid locking system in the industry.
SCEC endorsed lid to SL 2 (Security Level 2), compatible with ACO's SCEC endorsed concrete collars and concrete pits.
The patented locking mechanism is built into the pit wall and engages to a purpose designed provision on the lid. Once the locking latch is open, the lid will lift with assistance of the tool.
Access Covers – Cover & frame systems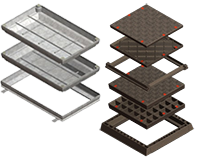 Weather resistant access covers are installed integrally into pavements / slabs above an enclosure.
There are two types, solid top and recessed. Recessed covers can be filled with pavement materials to provide visual continuity.
Available in hot dipped galvanised steel and ductile iron, access covers can be arranged as multi-parts or as trench runs for large enclosures
Decorative edging is optional.
ACO's lids and access covers are rated to AS 60529 (protection against the ingress of foreign objects), load certified to AS 3996 and slip rated to AS 4586.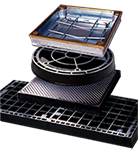 Access cover & frame systems
ACO manufactures a range of high quality access covers which, whilst providing speedy and easy access to underground services, enable decorative floor finishes to be maintained with minimal interference.