Larger enclosures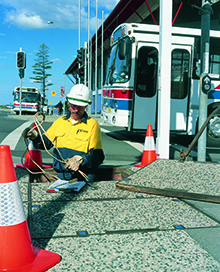 Maintenance (or access) holes and cable trunking runs are enclosed with access covers arranged in a multipart or trench run configuration. These enclosures are large reinforced concrete structures, sized according to the cable arrangement and may also be used to cater for the co-existence of other services/utilities or house equipment.
The design of these underground spaces are bound by the wiring rules set out in AS/ACIF S009. AS/NZS 3084 also offers some basic guidelines.
The construction of these underground spaces are usually fabricated on site or supplied as precast reinforced structures.
ACO's access covers are designed to be installed above them in a multipart or trench run configuration (trench run multiparts).
For a list of standard or custom sizes; installation guidelines and support services, visit our project support page or view our access cover product range
Due to the number of removable components including beams and individual covers, multipart access covers by their very design cannot be made water tight. This is why AS 3996: Access covers and grates excludes large access cover systems from its scope. AS 3996 requires compliance in a number of areas including gas and water tightness. ACO multipart covers are suitable for applications requiring general weather resistance on well drained enclosures. A reasonable degree of weather resistance can be achieved by sealing edges of covers, frame interfaces and lifting holes each time the cover is removed for servicing.
For applications requiring frequent access, ACO's Servokat Assist lift covers are recommended.
Visit https://www.acoaccess.com.au/products/servokat-assisted-lift/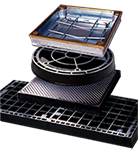 Access cover & frame systems
ACO manufactures a range of high quality access covers which, whilst providing speedy and easy access to underground services, enable decorative floor finishes to be maintained with minimal interference.