Cable Pits for TMR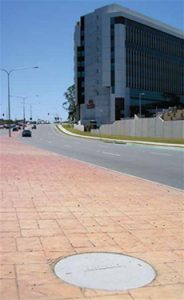 ACO is an approved registered supplier of pits to QLD Main Roads and as required by the client, all components delivered to the project are accompanied with batch related material and test certification providing full traceability to every step in ACO's supply chain.
ACO CABLEMATE® Type(s) 1, 3, 4, 7, 8 and 60 cable pits comply with Main Roads Specification MRS 11.78 Fabrication of Structural Steelwork; MRS 11.91 Ducts and Pits; and manufactured to Main Roads standard drawings.
All lids are tested to AS3996 have an electrical insulation coating to AS/NZS1580.408.5-2006; and supplied with a certificate of compliance.
| Part No. | Description |
| --- | --- |
| 75858 | Type 1 Plastic Pit |
| 5051013 | T1 TMR Cover Comm 475x195x46mm |
| 5051014 | T1 TMR Cover Elec 475x195x46mm |
| Part No. | Description |
| --- | --- |
| 75865 | Type 3 Plastic Pit |
| 5051033 | T3 TMR Cover Comm 494x269x46mm |
| 5051034 | T3 TMR Cover Elec 494x269x46mm |
| 5051035 | T3 TMR Cover Earth 494x269x46mm |
| Part No. | Description |
| --- | --- |
| 75957 | Type 4 Plastic Pit |
| 5051043 | T4 TMR Cover Comm 644x344x46mm |
| 5051044 | Type 4 TMR Cover Elec Coated cover |
| Part No. | Description |
| --- | --- |
| 76132 | Type 7 Plastic Pit |
| 5051073 | T7 TMR cover half Comm 459x494 |
| 5051074 | Type 7 TMR half Elec 459x494 |
| 5051001 | Type7/8 support Bar coated |
| Part No. | Description |
| --- | --- |
| 75018 | Type 8 Plastic Pit |
| 5051083 | Type 8 TMR half Comm 634x494 |
| 5051084 | Type 8 TMR half Elec 634x494 |
| 5051001 | Type 7/8 support Bar coated |
| Part No. | Description |
| --- | --- |
| 142808 | T60 TMR Concrete Surround TMRI |
| 142815 | T60 TMR Riser c/w Bolts & Nuts |
| 142830 | T60 TMR Infill Lid |
| 142809 | T60 TMR – Pit assembly - Communications |
| 142810 | T60 TMR – Pit assembly - Electrical |
For more info contact Steven Hughes
Ph.: 07 3292 4500
Mob. 0405 521 538