Does your cable enclosure require a more secure, strong and weather proof cover?
ACO offers a comprehensive range of cover and frame systems that are installed integrally into slabs, pavements and floors above pits and cable routes. These manhole solutions are used extensively across civil, urban and building applications.
The ACO Access range offers a choice of both iron and steel access covers in single part, 2 part, 3 part, trench run and multipart configurations. Brass & stainless edging are options for aesthetic applications.
Covers can also be made to blend into pavements and floors so as to make cable enclosures visually discreet.
ACO's range includes: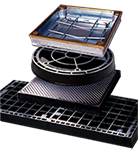 Rhinocast® – Infill iron access covers
Rhinocast® – Solid top iron access covers
Urbanfil® – Tilemate: Shallow steel access covers
Urbanfil® – Pavermate: Deep steel access covers
Servokat – Assisted lift access covers